Metal roofs are one of the most popular types of roofs today. They are lightweight, environmentally friendly and affordable to install. Maintaining it, however, can be tricky. At McGuire Roofing and Construction, your trusted local roofing contractors, we show you how to do it properly.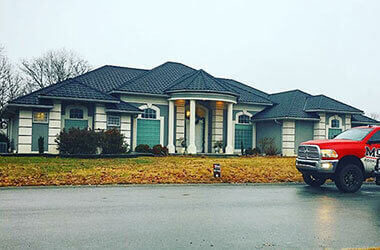 1. Inspect Closely
Metal roofs have special coatings to keep it waterproof and durable. That's why scratches, abrasions, or damage should be noted. Inspect the roof for these.
2. Clean the Gutters
This applies to all roofs, but it is especially important for metal roofs. Gutters are vital to every commercial and residential roof construction. It keeps the water drained properly, away from your roof and home. Since metal can rust, cleaning the gutters is important. Even if there are coatings, water can still damage the roof. Clear the gutter of debris and see if it drains water efficiently. You might need a gutter protection system as well.
3. Check the Fasteners
Your metal roof is applied in sections, which are held together by fasteners. It's important that these fasteners are properly applied. Too tight or too loose and your metal roof can be cut or pulled off.
4. Keep Trees Away
Trees can scratch your roof coatings. Trim the branches directly overhead, keeping them about five feet away. Also, remove any leaves that fall into your valley or gutters.
5. Call a Professional
The best way to keep your roof safe is with an expert's eye. If you spot any damage, from holes to cracks, call a trusted and licensed professional to help you. As one of the best commercial roofing contractors, McGuire Roofing and Construction is ready to help. We have spent many years maintaining roofs of all styles and materials.
We serve homeowners in Oak Ridge and Knoxville, TN. Call us today at (865) 338-7663 to learn more about our services and to schedule an in-home consultation.