Commercial Roofing Services in Tennessee
Commercial roofing is a specialized field dedicated to ensuring the structural integrity and longevity of buildings used for business purposes. Unlike residential roofing, commercial roofing tackles larger, more complex projects that demand a thorough understanding of various roofing systems, materials, and local regulations. Whether it's a flat roof, metal roofing, or a multi-story structure, McGuire Roofing & Construction, commercial roofing professionals are equipped to handle the unique challenges posed by these properties. Our expertise extends beyond installation to encompass maintenance, repairs, and enhancements that guarantee a secure and weather-resistant environment for businesses to thrive.
Remember: when you don't select your commercial roofing contractor wisely, you put your entire business at risk.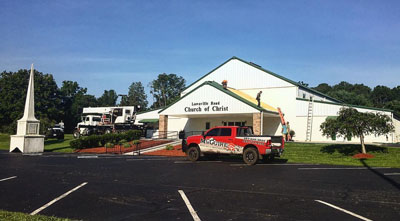 Commercial Roofer: The Importance of Finding the Right One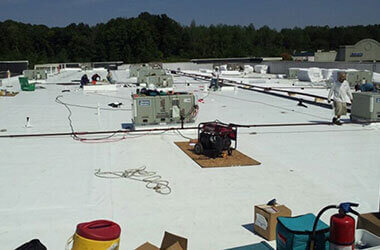 Why is it important to find the right commercial roofing services provider? There are endless reasons, but the one thing you should focus on is that your choice of roofer can very well determine the quality and life span of your commercial roof. Only an experienced and well-equipped commercial roofing contractor can ensure your investment doesn't go to waste, and that's what McGuire Roofing & Construction is here to provide.
When you work with our team of professionals, you work with experts who will make sure you have a beautiful, long-lasting roof. Our roofing technicians are vastly experienced in the area of commercial roofing that it's safe to say they have come across every issue.
But you don't have to take our word for it. Let our gallery of previous works do the convincing for us. If you like what you see, feel free to contact us today. We are your one-stop-shop for all commercial roofing needs, and we promise to deliver the value that you're looking for.
Recent Commercial Roofing Work
Below are some of our more recent commercial roofing jobs.
Bill Cox Furniture
Lakeside Tavern
Leconte Convention Center
Wasabi
Call Us for Any Commercial Roofing Job
We take on commercial roofing projects big and small. We do roof repair, replace, correct, improve, coat, maintain, and install commercial roofs of all types. Call our office today at 865-338-7663 (865-338-ROOF) or send us a message via our Contact page for your free consultation. We swear you'll find out for yourself why we are the favored contractor for all types of businesses in Knoxville TN and the surrounding areas.