Top-Notch Residential Roofing Services
If you need high quality residential roofing services in Knoxville, TN and the surrounding areas, look no further than McGuire Roofing & Construction. As a local and family-owned contracting company known for quality and consistency, we provide practically every residential roofing service available, including repair, replacement, maintenance, and new roof installation. We handle steep-slope, pitched, and flat roofing types.
Different Factors Can Potentially Damage Your Rooftop
Be it natural or man-made, your roof will eventually suffer some form of damage. Regardless of the size of the damage, these issues need to be addressed, and fast. Even the tiniest roof leak can lead to sizeable problems with rot, mold, and moisture. Time, weather, poor installation, and even a homeowner's negligence, every residential roofing system will eventually need some form of service at one time or another.
When you suspect you have a residential roofing issue, get in touch with McGuire Roofing & Construction immediately. We can come to your home and inspect your roof for you, completely free of charge. We can then provide you with a no-obligation estimate, so you'll know how to proceed with your roofing problem. Based on our findings, we may recommend repairs or replacement. Should you choose us to be your roofer, we can quickly fix any existing issues to prevent further damage to the rest of your home.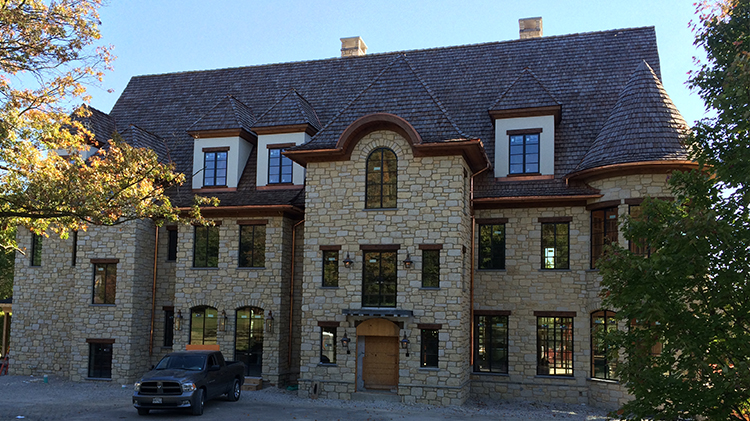 Book Your Free Estimate Today
Your journey toward a hassle-free roof starts with a phone call. We are trusted residential roofing professionals with the necessary license, insurance, and bonds to operate and provide topnotch residential roofing services. We also provide warranties for our workmanship and materials for your peace of mind. Call McGuire Roofing & Construction at 865-338-7663 (865-338-ROOF) or send us a message via our Contact page to schedule your free, no-obligation roof inspection and estimate.
Premium Asphalt Shingle Roofing System From McGuire Roofing & Construction
Asphalt shingles are by far the most popular roofing material in North America, with an estimated 15 billion square feet of shingles produced and installed annually. Even though it was developed over a century ago, this roofing material has proven to be one of the most cost-effective solutions to protect homes and businesses thanks to advancements in manufacturing techniques.
Here at McGuire Roofing & Construction, we have a proud history of providing high-quality residential and commercial roofing systems. Our asphalt shingle roofs strike the perfect balance between cost and benefits, and we will work with you to ensure a seamless installation regardless of your home's style and color scheme.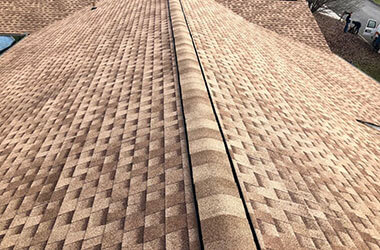 Why It's Hard To Beat An Asphalt Roof
Durable and Long-Lasting

 

—Today's roofing shingles feature improved life spans of up to 30 years or more with proper maintenance. Major roofing manufacturers like GAF® produce roofing shingles designed to withstand hurricane-force winds and extreme temperatures, as well as additional provisions to vent trapped heat and moisture in the attic.
Wide Variety of Styles and Designer Colors to Choose from

 

— Choose from an elegant selection of colors and textures to complement the style and color scheme of your home. As a GAF certified company, McGuire Roofing & Construction can install asphalt shingles that mimic slate or wood-shake roofing styles.
Easy to Install

 

— A roof replacement project can often be time consuming, causing a major disruption in your daily routines. With asphalt shingles, however, this process is significantly shortened, since this option is lightweight, flexible, and easy to adapt to any roof size and shape.
Affordable

 

— Compared with other roofing systems like slate and tile, an asphalt shingle roof can be one of the lowest cost options for roofing your home, giving you an excellent return on your investment.
In addition to these benefits, we offer superior workmanship and stand behind our work with manufacturer warranties for your peace of mind. Our priority is on delivering excellent service and value for your property that will last for years to come.
Talk to Us About Your Asphalt Roofing Project Today!
Residential Roofing Replacement Pros
McGuire Roofing & Construction is the preferred residential roofing replacement contractor in Knoxville, TN, and surrounding areas. We have helped many homeowners protect their homes with the quality roofing services we provide, and we can do the same for you. When you choose McGuire Roofing & Construction, you are assured that you are working with a reputable contractor with a consistent record of customer satisfaction.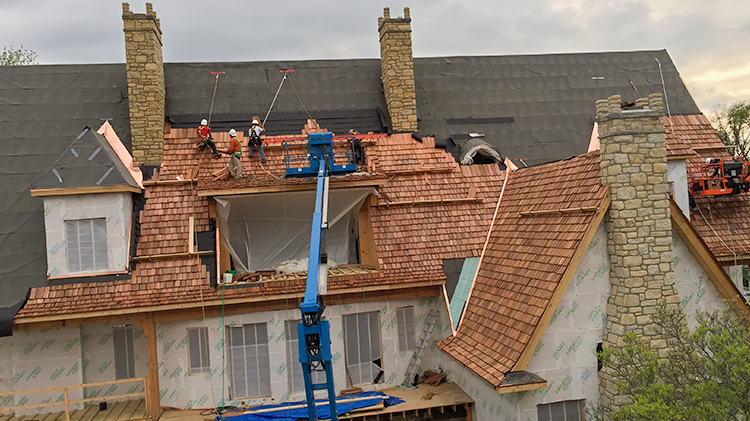 Why Your Roof May Need Replacing
Even the best built roofs are only designed to last so long. Eventually, it will succumb to the wear and tear caused by time and exposure. If your roof is looking more than a little worse for wear, having it repaired may not be the most feasible move. Let us go over your roof for you free of charge, and if it's time to replace it, our team is at your service, ready to provide you with the professionalism you're looking for.
High-Performance Products, Reliable Workmanship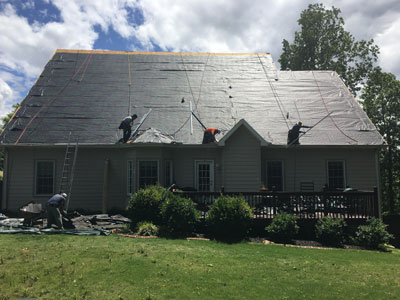 McGuire Roofing & Construction is dedicated to providing top quality residential roof replacement services to the communities we serve. We understand that replacing an entire roof involves a significant investment on your part, which is why we make sure you get your money's worth. Once you've chosen the ideal material and design for your needs, we'll install it to the best of our professional abilities, with a keen attention to detail and perfection.
Call Us for a Free Inspection and Estimate
McGuire Roofing & Construction can replace a wide variety of roofing systems including asphalt shingles, metal roofs, slates, wood shakes, and flat roofing. We also offer roof repair and maintenance services. When it comes to your residential roofing replacement project, you can put your full trust in our company. Call us today at 865-338-7663 (865-338-ROOF) or message us via the blank customer form on our Contact page to book your free-of-charge, no-obligation roof inspection and estimate.
Roof Repair and Maintenance Specialists
A leaking roof can be a challenging experience. If not handled quickly and properly, it has the potential to deal significant damage to certain parts of a home, if not all of it. From rotted wood to rusted metal and even mold growth, a leaking roof isn't something a homeowner can leave to chance. Call a roof repair expert immediately when you suspect you have a roof leak.
Roof repair is an intricate process that should be handled by a roofer with experience and knowledge of different roofing systems. This is the best way to address the unique challenges that each type of roof presents. The professionals at McGuire Roofing & Construction are not only able to identify the source of the leak, but can also ensure that it's repaired properly and won't cause further damage to your property.
We've seen firsthand how even the smallest of leaks can lead to extensive and expensive problems, which is why we never leave anything to chance. When you call us for a roof inspection, we will thoroughly comb over every square foot of your roofing system to give you the peace of mind knowing all your roof leak sources are identified.
Our certified roofing professionals have all the necessary training and qualification to repair most roof types, including asphalt shingles, wood shakes, slates, metal, and flat roofing. Our perfect combination of high quality workmanship and materials help ensure that your roof lasts for many years.
Don't Delay the Repair of Your Roof
If a small leak is left unfixed for too long, you may not only need to replace a few shingles, but the entire roof as well. The moment you notice any water marks on your ceiling or attic, call McGuire Roofing & Construction at 865-338-7663 (865-338-ROOF) for a free consultation and estimate on your roof repair. Alternatively, you may also use our Contact page information to get in touch with us.