Metal Roofing Services in Tennessee
Metal roofing is a cutting-edge solution known for its exceptional durability and modern aesthetic. With a range of styles and finishes, it offers both practicality and visual appeal. Metal roofs are highly resistant to harsh weather conditions, such as rain, snow, and extreme heat, making them a long-lasting choice. They require minimal maintenance and can even improve energy efficiency due to their reflective properties.
Metal roofing is an increasingly popular choice among home and business owners alike, and McGuire Roofing & Construction is the specialist to get the job done for your property. Thanks to paint and coating technological advancements, metal roofs now come with significantly enhanced performance and complete resistance to rust and corrosion for residential or commercial buildings.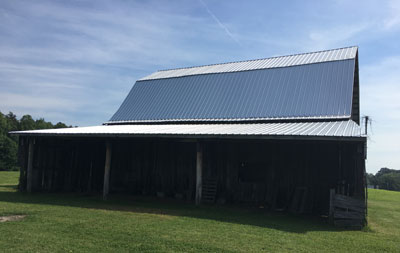 Why Choose Metal Roofing?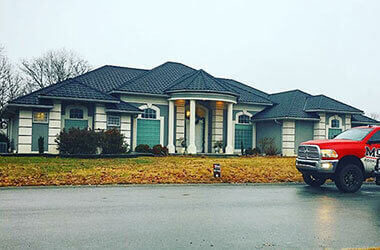 Here at McGuire Roofing & Construction, we are dedicated to building a strong and lasting relationship with our customers. That's why we use only top-quality products that provide several benefits to property owners. We recommend installing metal roofs because of the following features:
Longevity

 

-– One of the chief advantages of metal roofing is its long life span. Compared with other roofing materials that only last an average of 15 to 20 years, a metal roof can survive for up to 50 years or more. It is also easy to maintain.
Durability and Uncommon Resistance

 

–- Metal has always had a reputation of easily withstanding great amounts of wear, pressure, and damage, so it comes as no surprise that it is an optimal choice for roofing material. It is resistant to fire, rot, insects, moisture, fading, cracks, and even has a wind rating of 140mph.
Rugged, Charming Appeal

 

-– Metal roofing is available in elegant textures and an impressive array of colors, and McGuire Roofing & Construction will work with you to select the perfect design for your property. Whether you're looking for your property to blend smoothly into the neighborhood theme or stand out boldly, our metal roofing systems will redefine your home's curb appeal with ease.
Energy Efficiency

 

— Metal roofs are outstanding insulators and are commonly referred to as "cool roofs", thanks to their ability to reflect the sun's rays. This in turn regulates indoor temperatures and lowers your heating and air conditioning expenses.
With over 25 years of industry experience combined with our knowledgeable professionals, McGuire Roofing & Construction is the metal roofing company of choice in Knoxville, TN and the surrounding areas. We take pride in our excellent customer service, which begins by getting to know your needs and building a plan to complete the project on time and on budget. We will make sure to incorporate your sense of style into every aspect of your home.
Get Your FREE Estimate on Metal Roofing Today!
Get started on your metal roofing project today with a free, no-obligation estimate by calling us at 865-338-7663 (865-338-ROOF). You can also reach us by filling out our convenient contact form. We would love to hear from you.